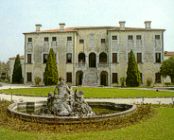 Villa Godi Malinverni
Here the garden still maintains the beautiful arrangement of the past, when lords and their guests used to spend the day walking through water fountains, flowers and labyrinths of hedges. Among all the gardens that still fascinate for their vegetation and arrangement, we cannot fail to mention
Villa Barbarigo
in Valsanzibio, the Italian-style garden of
Villa Arvedi
in Cuzzano di Grezzana, the romantic garden of Montegalda
and the
Botanical Garden
in Padua.
Our itinerary can proceed to
Villa Cornaro
and
Villa Contarini, Villa Badoer
and Villa Nani Mocenigo, with a visit to
Villa Emo
and
Villa Barbaro
, as well, two of the greatest Palladian masterpieces by the Palladian artistic genius, frescoed respectively by Giambattista
Zelotti
and Paolo
Veronese
. It is also possible take part in an excursion along the Riviera del Brenta and the Terraglio, the sites along the river and on land that the noble Venetian families used to choose for their holidays. We recommend a relaxing and leisurely approach to this itinerary to truly appreciate the wonders of the Villas:
Villa Foscari
better known as the "
Malcontenta
", Villa Widmann, Villa Foscarini Rossi, Villa Duodo,
Villa Albrizzi Franchetti
, Villa "la Colombina", etc.